On Demand

Access all of the available catch-up TV program in one place on your TV. Go backward in the program guide or go straight to the network catch-up service.

Search & Discover

Looking for a specific show or movie? Freeview Plus makes it easy find your favourite programs and discover new ones.

7-Day Guide

Find out what's on over the next seven days and go backwards to see what is available on catch-up TV. Keep watching while you browse other channels and shows.

Always Free

Your personalised screen, helping you discover programs you'll love. Explore TV looks at your viewing across Live, Catch Up, Our Picks, Favourites and Recommended. If there's a program you don't want to miss, simply set a reminder and we'll let you know when your program is about to start.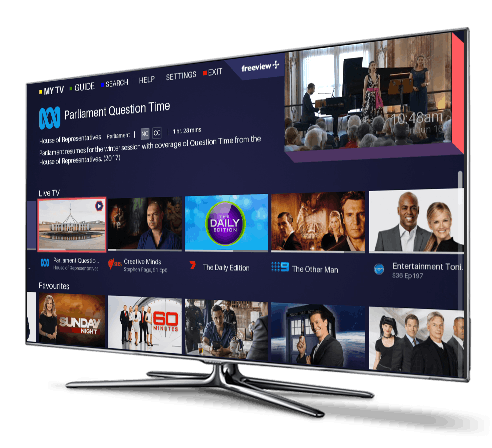 What do I need?
All you need is a Freeview Plus certified receiver, good digital reception, a broadband connection and you're ready to go!
Freeview Plus is available on a range of manufacturer TVs, set-top-boxes (STB) and personal video recorders (PVR). The products listed here have been tested and approved by Freeview to ensure that they deliver a high quality and reliable service.
Select one of the options below to view available products.
Check My Postcode
Please enter your postcode to discover the Freeview services in your region.